Standard Features:
Used in combination with casements
Variety of exterior brickmould options
Variety of interior wood finishes
Optional insulated head and seat
Custom made
High efficiency Low E Argon thermal glass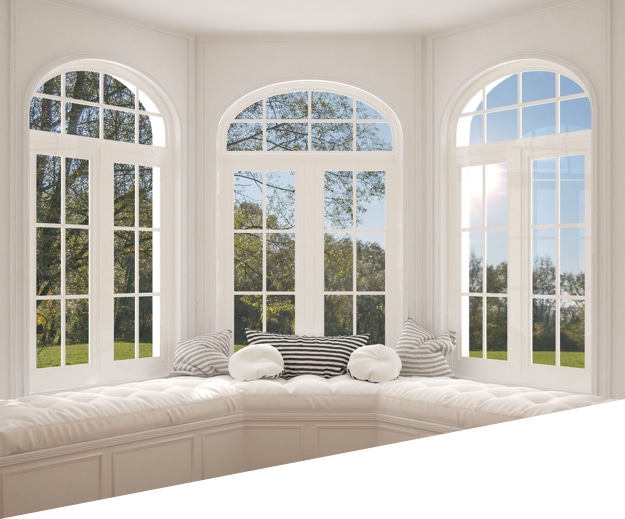 Bay Windows
Bay windows are a style of projection window that are composed of a main picture window that is flanked by two side windows. Bay windows can be distinguished from bow windows by being limited to three panes of glass and the sharper angles between the panes that result. Bay windows thus appear more angular than the more curved bow windows. When in the marketplace for bay windows buyers often seek out the expertise of Comfort Windows and Doors. Serving the area with excellent customer service, the professionals at Comfort Windows & Doors can provide insight into the utility of bay windows. You can also read more for a list of bay window benefits.
Increased Light And View
The large picture window that characterizes bay windows allows for plenty of sunlight to enter the house while providing an expansive view of the outdoors. The flanking windows, which are installed at an angle to the picture window allows sunlight to enter the room from several different directions. The fact that the bay window juts out from the house's wall perimeter only adds to the amount of sunlight available. For this reason bay windows are great for rooms that don't receive a lot of direct sunlight.
Increased Ventilation
Although the bay window picture window is fixed, the side windows can be openable. Whether installed as double or single hung windows, casement windows or tilt sliders, the side windows can allow a good amount of airflow. As they jut out from the house at an angle, they allow air to flow from different directions making them much more efficient at ventilation than regular windows that don't protrude from the house.
Increased Space
Bay windows will add a few extra square feet to the room they're installed in. The addition of a wide window sill can also act as extra seating or display space. Not only do bay windows make a room look larger from the inside, they make the outside of the house look bigger too. When situated on the corners of a house, bay windows can take advantage of outdoor space in multiple directions.
Increased Property Value
Bay windows create a unique look that's highly prized by potential home buyers. Not only do bay windows make a house look larger from the outside, they create brighter and larger spaces inside which can add to the value of the property as a whole. If you're looking for a low cost, high return investment before putting your house on the market, a bay window could be a great way to increase your asking price.
Customer Installations
With lots of installations under our belts, we've put together
some of our favourites for you.