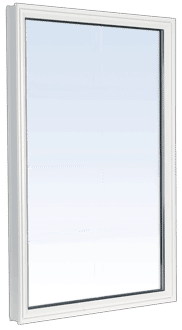 Standard Features:
Internal drainage system
High efficiency Low E Argon thermal glass
Picture Windows
Picture windows are appropriately named, because they are large, fixed panes with low profile frames to maximize your view. Since they're fixed panes, they are stationary, and can't move or open. While picture windows can sometimes be by themselves, they are commonly used in combination with additional windows to create an attractive configuration.
A Great View
Picture windows are appropriately named for their ability to enhance the view outside of your home. The large, fixed panes are not created for ventilation, but rather to maximize the sightlines leading from the inside of the room to the outdoors. Most often the picture windows are centre point of the room they inhabit, and are usually set in the middle of the main outer wall. There's also the possibility of installing additional smaller windows along the sides or above the picture window. If you have an extraordinary panoramic view outside your home, a picture window is probably the best way to emphasize it.
Versatility
Picture windows are versatile in that they are perfectly sufficient when allowed to dominate a room on their own, but they can also work very well as part of a larger configuration with one or more other smaller windows. By combining the picture window with other windows it's possible to broaden the view of the outdoors, add more natural light to the room and allow the room to appear larger.
Brightened Home
Not only do picture windows enhance the view outside of the house, they're also designed to allow the most light into the house as possible. Picture windows are ideal for brightening up a room and allowing natural sunlight to improve the lighting and illumination during the daylight hours. Picture windows can be used to take maximum advantage of the arc of the sun no matter the orientation of the room.
Size
Picture windows come in a wide variety of sizes making them appropriate for virtually any room in the house. The appropriate size really depends on personal preference and the layout of the room in which the window is being installed. Picture windows can be bought off the shelf in standard sizes, or be custom made to allow for a perfect fit wherever necessary.