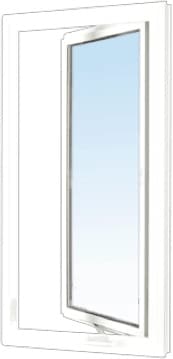 Standard Features:
Multi-point locking hardware
Heavy duty handle
Folding handle
Sash keepers
Full screen with overlapping frame and sprung loaded
High efficiency Low E Argon thermal glass
Casement Windows
Casement windows are characterized by the way they are attached to the window frame. Using one or more hinges along the side of the window frame, casement windows open outwards, quite often using a hand-driven crank. Casement windows can open to the left or right depending on which side of the window the hinges are attached. If you're looking for the best selection of casement windows Vaugan has to offer, get in touch with the experts at Comfort.
Style And Versatility
Casement windows are an excellent choice due to their versatility. They offer a variety of design features that allow you to easily match them up with the style of your home. You can also choose the type of materials they are made of depending on your personal preferences and budget.
Security
Casement windows are one of the most secure types of windows available. Because the window opening mechanism system is only available to someone inside the house, there's virtually no way for an intruder to open it from the outside. The additional use of the inside window locks makes casement windows incredibly secure.
Energy Efficient
The design of casement windows reduces the amount of air leakage that occurs when the window is closed. The tight fitting seal between the window sash and frame keeps indoor air from escaping and outdoor air from seeping in. All Comfort Windows & Doors products are manufactured in Canada and are Energy Star certified.
Glazing Options
Casement windows allow for a full range of window glazing options. Double or triple glazing can be employed to keep out the coldest of weather. And if you're looking for something a bit more refined, such as stained or beveled glass, casement windows allow you to be creative.
Ventilation
Casement windows are known for providing excellent air ventilation. Because they open outwards, they easily catch the breeze and will fill up a room with fresh outdoor air in a matter of seconds. Add that to the fact that the opening runs the full length of the window and you have unparalleled access to fresh air.
Ease Of Operation
Casement windows are easy to open and close due to the cranking mechanism. This makes casement windows ideal for hard to reach places like above the kitchen sink. It's also possible
Customer Installations
With lots of installations under our belts, we've put together
some of our favourites for you.