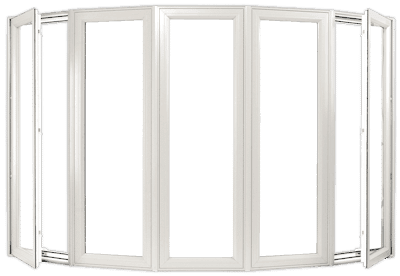 Standard Features:
Used in combination with casements
Variety of exterior brickmould options
Variety of interior wood finishes
Optional insulated head and seat
Custom made
High efficiency Low E Argon thermal glass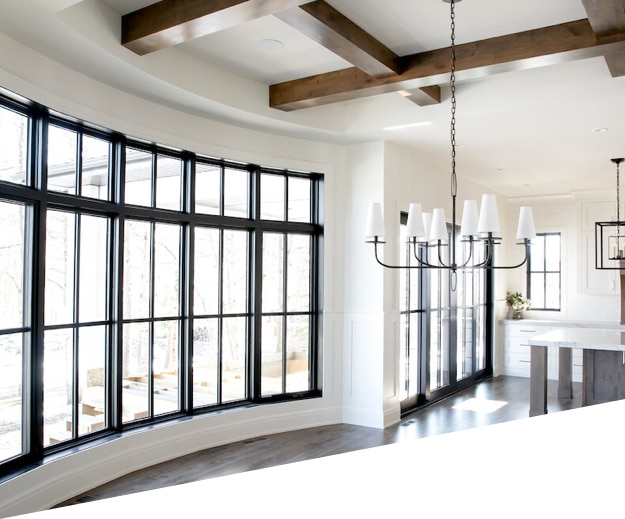 Bow Windows
Bow windows are a type of projection window that are distinguished by having four or more window panes (also known as lites) that protrude from the room to create a curved addition extending outwards from the house and beyond the regular wall boundaries. Bow windows are often confused with bay windows, but can be differentiated by the larger number of lites and the smoother arc of the window protrusion. When seeking bow windows Vaughan businesses and residents commonly reach out to the expert staff at Comfort Windows & Doors. For those looking for more information on how bow windows can benefit a property, we've created this compendium of their benefits below.
Additional Light
Because of the large number of lites and their extension beyond the regular perimeter of a room's walls, bow windows can add a significant amount of sunlight into a room. The various lites allow sunlight in from a variety of angles to efficiently illuminate the space with the light
that's available. Because of this, bow windows work particularly well in rooms with northern or eastern exposures that don't receive a lot of direct sunlight.
Additional Air Flow
Although bow windows can be composed of fixed casement windows, they can also be built with windows that are openable and allow for additional air flow. With bow window lites being installed at slightly different angles while projecting out from the perimeter of the house, they can create a significant amount of extra air circulation that cannot be matched by traditional windows installed directly into the wall.
Additional Space
Bow windows not only literally add space to the room in which they're installed, they also create an illusion of a much larger room and house. From the inside of the house, a bow window juts out of the perimeter of the room by several inches to several feet. This added space can appear even larger due to drawing the eye outside of the traditional boundaries of the room. Quite often a wide window sill can be used to create extra seating or display space within the bow window. From the outside, bow windows make a house look larger and more impressive. Bow windows can also be used on the corners of a house to create additional space in more than one direction. And because bow windows have a narrower profile than bay windows, they can be ideal for tight spaces.
Additional Property Value
Bow windows are a great investment for those looking to improve the value of their property. Bow windows add to the curb appeal of the house and have been found to be very attractive to potential home buyers. The additional space along with the unique look of bow windows can make a home stand out and appear more enticing.
Customer Installations
With lots of installations under our belts, we've put together
some of our favourites for you.