Window Wise Certification

Window Wise™ is an independent company that audits and certifies window contractors and manufacturers to ensure that homeowners are getting quality products and that their windows are being installed correctly by conducting training seminars. Window Wise™ audits companies based on energy-efficient windows, dealers certification, installer certification, product and installation criteria, and warranty information.
5 Components Of The Window Wise™ Program
APPROVED WINDOWS

With 100s of window manufacturers, windows can span a wide range of quality, efficiency and price. Window Wise™ eliminates the guesswork by enforcing rigid quality standards before granting our seal of approval.
CERTIFIED CONTRACTORS

Qualifying your contractor can be difficult – they all make claims of quality workmanship backed by a guarantee but how can you really be sure? Each Window Wise™ contractor must meet our strict standards and is subject to random inspections.
TRAINED AND CERTIFIED INSTALLERS

Our program insists that a certified installer must be present at every job. For certification, an installer must successfully complete the comprehensive Window Wise™ installation training program.
RANDOM JOB INSPECTIONS

Window Wise™ randomly inspects certified installations to ensure standards are being maintained. Window Wise™ contractors know they are being continually monitored not just for workmanship but also for professionalism, work ethic and customer service.
QUALITY ASSURANCE GUARANTEE

On registering with us, your investment is insured for 5 years against failure by our transferable warranty. This is in addition to the guarantees provided by the window manufacturer and the window contractor.
About The Window Wise™ Program
Peace of mind… Window Wise™ is a quality assurance program designed to give homeowners peace of mind that their window investment will be a lasting one. Peace of mind that the products they're buying, and the tradespeople installing them, are of the highest quality. Peace of mind in knowing that no matter what happens to the window manufacturer or the contractor, they are protected by an industry-backed guarantee.
HOW DOES WINDOW WISE™ ENSURE "PEACE OF MIND"?
Window Wise™ independently audits and certifies contractors and window manufacturers, and conducts comprehensive window installation training seminars for installers. This ensures that if your replacement windows are Window Wise™, you've made a wise choice.
IF IT ISN'T WINDOW WISE™, WHAT IS IT?
In the home improvement industry there are many poorly trained installers, poor quality products, and companies that don't service what they sell. A Window Wise™ quality assured and energy efficient window installation offers a level of confidence and peace of mind simply not available anywhere else:
High quality, energy efficient windows, tested and approved a certified dealer/contractor a trained, certified installer.
Registration of your window replacement job ensuring all product and installation criteria have been met.
A full 5 year transferable guarantee.
Third party intervention should your manufacturer or contractor not fulfill their obligations to your satisfaction.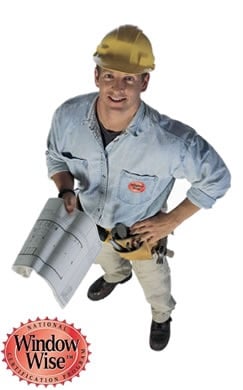 What You Should Know About Window Wise™
Did you know… that there are over 2000 window manufacturers in Canada, but to date less than 30 are certified by Window Wise™?
Did you know… that more than 75% of the vinyl window manufacturers in Canada do not test their windows for air infiltration, water leakage and strength, according to government standards?
Did you know… that there are literally thousands of contractors and renovators in Canada… and that most of them haven't been properly trained to install windows?
It pays to ask If your renovator reacts with a blank expression when asked about Window Wise™, chances are he does not install products which are Window Wise™ approved and is not a Certified Window Wise™ contractor. Some contractors mislead by saying they participate in the Window Wise™ program because they install Window Wise™ products but, in fact, are not certified Window Wise™ contractors themselves. Improper installation will inevitably lead to problems regardless of the quality of the window.
SO, WHO DO YOU TRUST?
Window Wise™ is a National Certification Program that independently approves and audits:
the window
the installation
the contractor
Window Wise™ also guarantees your Window Wise™ window replacement for 5 years. A Window Wise™ window replacement may cost a little more, but isn't it worth the peace of mind knowing your investment is protected?
What Makes A Window Wise Window?
Rapid advances in window technology have created a market made up of hundreds of window manufacturers resulting in vast differences in window quality. How do you know you're getting the best windows available? All approved Window Wise windows have been tested and exceed building code standards for air infiltration, water leakage and strength, and will provide you with energy saving benefits for years to come.
CRITERIA OF A WINDOW WISE WINDOW
High quality, thermally efficient frame and sash components manufactured under specified quality control
High efficiency, Low-E coated, sealed glazing units filled with inert gas
Sealed units made with warm edge spacers
State-of-the-art weatherstripping
Windows are forced-entry rated
Windows are tested according to CSA A440 specification. Test results must meet or exceed Window Wise minimum requirements for: a) air infiltration b) water penetration c) strength (wind load)
Light enters freely through Low-E glass
THE LOW-E WINDOW
In the summer, heat reflective windows lower a/c costs
In the winter, retain interior heat and dramatically lower energy costs
Window Wise Certification Means Trust
Window Wise is a National Certification Program that independently approves and audits the window, the installation and the contractor. Window Wise also guarantees your window replacement for 5 years.
What Makes a Window Wise Certified Contractor?
Qualifying your replacement window contractor or installer can be difficult. They will all insist that they have:
trained staff
will do an excellent job
stand behind their work
But how can you be sure? What if they're no longer in business when you have a problem?
Benefits of a Window Wise Contractor
has been in business for a minimum of 3 years
has a proven reputation and financial stability
adheres to the SAWDAC code of ethics
offers a minimum 5 year workmanship guarantee
carries a minimum of two million dollars in liability insurance
is one whose tradesmen have successfully completed Comfort Windows and Doors mandatory window installation training program and are individually certified by Window Wise
NATURAL RESOURCES CANADA
Natural Resources Canada Government of Canada Consumer's Guide to buying Energy-Efficient Windows and Doors. The Canadian Standards Association (CSA) has established the CSA-A440 standard. It describes how to measure and rate a window's airtightness, watertightness, wind resistance, condensation resistance, forced entry resistance, ease of operation, and other requirements.
ENERGY STAR
Energy Star qualified windows, doors, and skylights save you energy and money, increase the comfort of your home, and protect your valuable possessions from sun damage. They are also better for the environment because lowering your energy use means less air pollution from power plants.